Discover more from zkApe
#zeroknowledge teknolojisi hakkında Türkçe bülten.
zkApe #2
Zero knowledge teknolojisi hakkında Türkçe bülten zkApe ikinci sayısı karşınızda.

Zero knowledge teknolojisi hakkında kripto evrende yaşanan gelişmelerin derlendiği zkApe ikinci sayısı hazır. Başlamadan önce bülten hakkında haberleri paylaşmak istiyorum. zkApe Gitcoin sayfamız onaylandı ve bülten Gitcoin Round 11'e katılacak. 8-23 Eylül tarihleri arasında yapılacak fonlama sürecinde zkApe desteğinizi bekliyor.
Bültene Yeni Başlayanlar başlığı eklendi. Bu başlıkta zero knowledge teknolojisine yeni başlayan meraklılara yönelik faydalı kaynaklar olacak. Yakında zkApe röportajları ve ekosistemde yer alan değerli insanların spesifik konular hakkında yazdığı makale/deneme yazılarına bültende yer vereceğiz.
Şimdilik vaziyet bu şekilde.

🔍Proje Güncellemeleri


👀Dikkat Çeken Tweetler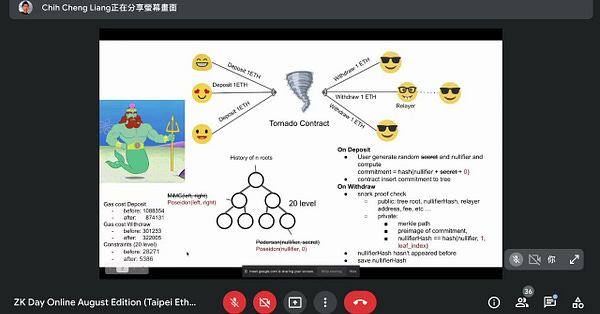 youtube.com
Chih-Cheng Liang | Tornado Cash with Poseidon Hash
Speaker introChih-Cheng Liang builds zero-knowledge proof applications on Ethereum. EF's Privacy and Scaling Explorations Team.Talk description"Tornado Cash ...


Is it possible to do completely private CFMMs on-chain?



🎧Video ve Podcast
Zero Knowledge Podcast: zkEVM with Jordi Baylina & David Schwartz from Hermez
Aztec Protocol – Bringing Scalable Privacy to DeFi Joe Andrews & Zac Williamson
Celestia: A pluggable consensus and data availability layer
Numio: How you can utilize Numio for zkRollups that allow fast, cheap, and secure transfers?
Oskar Thoren: Briefly on zk-SNARKs Mathematical Foundations
How does PLONK work? Part 1: What's PLONK?


📝Yeni Başlayanlar
Yeni Başlayanlar başlığımızda zero knowledge teknolojisine aşina olmayan ve merak edenler için faydalı kaynakları paylaşıyoruz.

Not Boring by Packy McCormick

What are zk-SNARKs?




zkApe'in ikinci sayısı bitti. Üçüncü bültende görüşmek üzere. Abone olmayı unutmayın. Yorum ve görüşlerinizi paylaşmaktan çekinmeyin. Bülteni paylaşın ve Twitter'da takip edin.
Destek olmak için adreslerimiz;

Gitcoin: https://gitcoin.co/grants/3372/zkape
ETH: 0xa053473DDa59994682F8e96990ffc36aa982782b
ZEC: t1Pd2EWTzWaAyftfGUKC9zD9m6QEQwvjNa4

Daha önceki yayınlar

zkApe #1